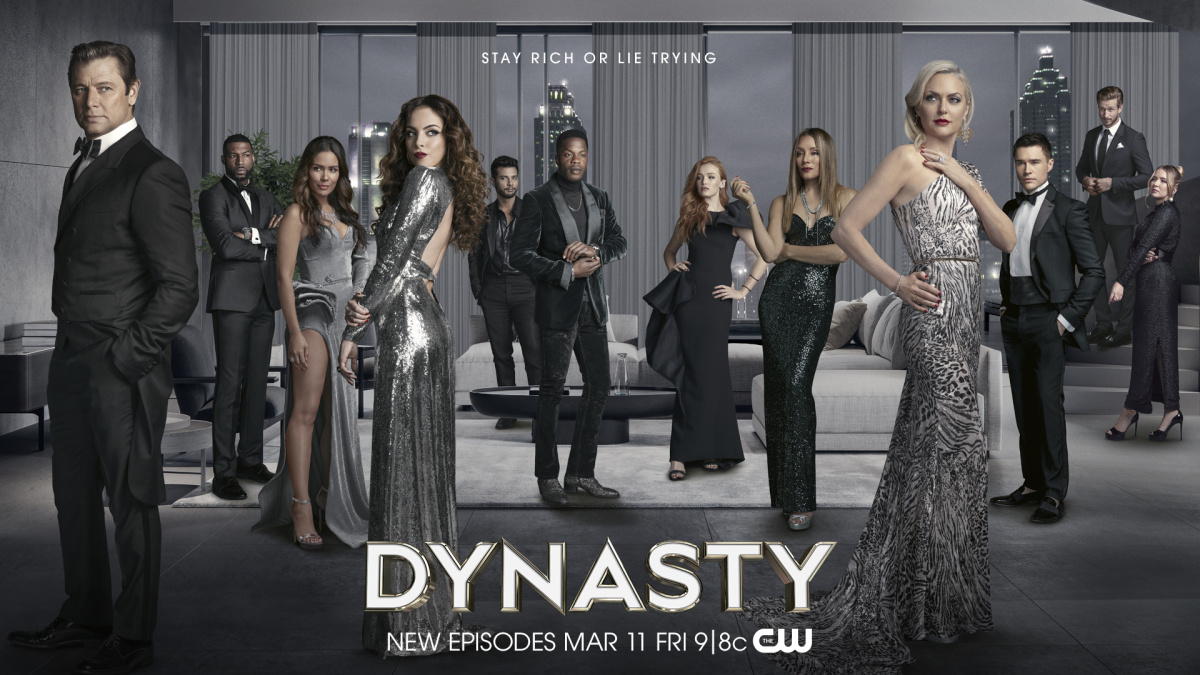 "DYNASTY"
Friday (9:00 – 10:00 p.m. ET) on The CW
It's a Christmas wish come true! Season's Greetings from Season Five of DYNASTY, back to give you the best present of all: more Carrington drama. After Eva, Fallon's (Elizabeth Gillies) scorned and lovesick assistant, shot her, Fallon lay bleeding out on the campaign gala floor with her marriage to Liam (Adam Huber) also circling the drain. Will she survive the internal damage? Will her marriage survive the external damage? It's anyone's guess...
Also racing for his life - electorally speaking - Blake (Grant Show) steadily built a lead in the Georgia Senate race, thanks to Cristal (Daniella Alonso) employing a little Carrington manipulation of her own. This season, the marriage starts off in rough waters, but soon hits smooth sailing as Cristal finds herself at the helm of a new position of power. With Blake's airline soaring, it may be time for Blake and Cristal to consummate their marriage by joining together as one... business. The problem is, in this world, amassing more power just makes you more of a target for the people waiting to take you down.
Now adorned in her finest prison orange, Alexis (Elaine Hendrix) finds herself behind bars for a crime she didn't commit. While one child – Adam (Sam Underwood) – clearly was more involved than he's letting on, another child – Amanda (Eliza Bennett) – does her best to exonerate her mother. A game of cat and mouse ensues as Amanda looks to settle some scores with Adam, leading to a season-long rivalry. As Adam builds up his new company this year, Amanda will do whatever she can to make him suffer.
Meanwhile, while Jeff (Sam Adegoke) is no longer going into outer space, he's still going into dangerous places. He soon finds himself in the midst of a dangerous war that he's not sure he can win. At the same time, Dominique (Michael Michele) looks to expand her reach in the fashion industry, giving Kirby (Maddison Brown) another chance to return to a career that almost destroyed her. Culhane (Robert C. Riley) sets out to find an everlasting love and Sam (Rafael de la Fuente) opens his heart only to uncover a devastating family secret.
This season is all about legacy and what it means to leave something worthwhile behind. As we head towards our 100th episode, there will be no shortage of caviar and champagne, hair-pulling and pageantry, and maybe even a few new faces with old secrets ready to solidify their own dynasty.
DYNASTY is from CBS Studios in association with Fake Empire, with executive producers Josh Reims ("Jane The Virgin"), Josh Schwartz ("Gossip Girl"), Stephanie Savage ("Gossip Girl"), Sallie Patrick ("Revenge"), Christopher Fife, Brad Silberling, Pascal Verschooris and Esther and Richard Shapiro (the creators of the original "Dynasty").
December 2021
CREDITS FOR "DYNASTY" ON THE CW
Day and time:

Friday, 9:00 – 10:00 PM ET/PT

Network debut:

October 11, 2017

Short Synopsis:

The Rolls Royce of all primetime soaps returns in a modernized reboot that follows two of America's wealthiest families, the Carringtons and the Colbys.

Cast:

Elizabeth Gillies as Fallon Carrington

Daniella Alonso as Cristal Carrington

Elaine Hendrix as Alexis Carrington Colby

Rafael de la Fuente as Sammy Jo Jones

Sam Underwood as Adam Carrington

Michael Michele as Dominique Deveraux

Robert Christopher Riley as Michael Culhane

Sam Adegoke as Jeff Colby

Maddison Brown as Kirby Anders

Adam Huber as Liam Ridley

Eliza Bennett as Amanda Carrington

And Grant Show as Blake Carrington

Executive Producers:

Josh Reims, Josh Schwartz, Stephanie Savage, Sallie Patrick, Christopher Fife, Brad Silberling, Pascal Verschooris, David Israel, Esther and Richard Shapiro

Produced by:

Format:

CBS Studios

Drama 60 min

(Filmed in HD)

Origination:

Atlanta, GA

Media contacts:

Jodi Karp, 818/977-2609
December 2021
First Kidnapping and Now Theft
5

520

Airdate:
BIG PROMISES – As Blake (Grant Show) institutes damage control to help Adam (Sam Underwood), Cristal offers advice which falls flat. Sam (Rafael de la Fuente) finds out about an unexpected presence at La Mirage and he and Culhane (Robert C. Riley) enlist Liam (Adam Huber) to help with the situation. Meanwhile, Alexis (Elaine Hendrix) wants to bond with her daughters, so she goes to extreme measures to win over Fallon (Elizabeth Gillies) and Amanda (Eliza Bennett). Lastly, Kirby (Maddison Brown) implements a new life policy and Jeff (Sam Adegoke) is not pleased with the results. The episode was written by Chris Erric Maddox and directed by Pat Santana (#520). Original airdate 9/2/2022.
Character

Blake Carrington

Character

Fallon Carrington