Scooby-Doo, Where Are You Now!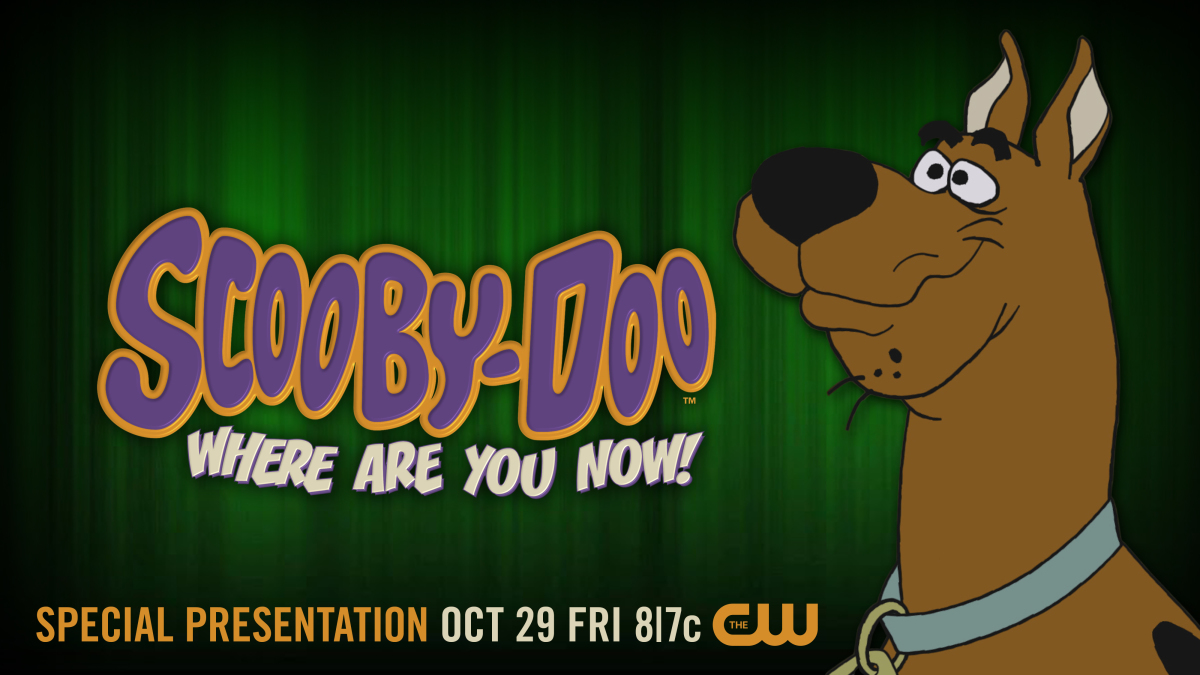 "SCOOBY-DOO, WHERE ARE YOU NOW!"
Friday (8:00 – 9:00 p.m. ET) on The CW
After 52 years of solving mysteries, the Scooby Gang reunites for SCOOBY-DOO, WHERE ARE YOU NOW! The gang gathers at Warner Bros. Studios to reminisce about their favorite cases and how they were filmed. But it turns out that the backlot may have its OWN monster problem! Fred (Frank Welker), Daphne (Grey Griffin), Velma (Kate Micucci), Shaggy (Matthew Lillard) and Scooby-Doo (Fred Welker) investigate this mystery while celebrating the legacy of the franchise during this one-hour special. Hosted by Janel Parrish ("Pretty Little Liars"), special guests joining the Scooby gang include author Jerry Beck, Karamo Brown ("Queer Eye"), producer Tony Cervone ("Scoob!"), Seth Green ("Family Guy"), Olivia Liang ("Kung Fu"), producer David Silverman ("The Simpsons"), animator Tom Sito, Mitch Watson ("Scooby-Doo! Mystery Incorporated"), "Weird Al" Yankovic and Cheri Oteri ("Saturday Night Live").
SCOOBY-DOO, WHERE ARE YOU NOW! is from Warner Bros. Animation and Warner Bros. Unscripted Television in association with Warner Horizon and Abominable Pictures. Jonathan Stern serves as writer, director and executive producer.
CREDITS FOR "SCOOBY-DOO, WHERE ARE YOU NOW!" ON THE CW
Day and time:

Friday, 8:00 – 9:00 PM ET/PT

Network debut:

October 29, 2021

Short Synopsis:

The Scooby gang reunites at Warner Bros. Studios to reminisce about their favorite cases and how they were filmed.

Cast:

Host – Janel Parrish

Frank Welker as Fred Jones

Frank Welker as Scooby-Doo

Grey Griffin as Daphne Blake

Matthew Lillard as Norville "Shaggy" Roberts

Kate Micucci as Velma Dinkley

Karamo Brown as Carter, the Costume Designer

Brendan Jennings as Arlo Davidsonman

Vadym Kransnenko as Snow Ghost

Olivia Liang as the Martial Arts Trainer

Mary Lynn Rajskub as Bryn, the Producer

Fred Tatasciore as "additional voices"

Baron Vaughn as Bram Penobscot

With Special Guest Star Cheri Oteri as Lazlo the Mechanic

Executive Producer:

Jonathan Stern

Produced by:

Format:

Warner Bros. Animation and Warner Bros. Unscripted Television in association with Warner Horizon and Abominable Pictures.

Drama 60 min

(Filmed in HD)

Origination:

Burbank, CA

Media contacts:

Jodi Karp, 818/977-2609
October 2021