Release
THE 27th ANNUAL CRITICS CHOICE AWARDS RETURNS TO THE CW NETWORK ON SUNDAY, JANUARY 9, 2022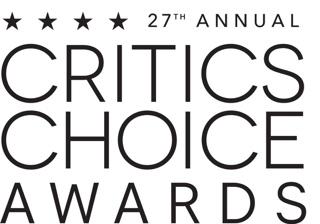 THE 27th ANNUAL CRITICS CHOICE AWARDS RETURNS TO
THE CW NETWORK ON SUNDAY, JANUARY 9, 2022
May 12, 2021 (Burbank, CA) – The Critics Choice Association (CCA) announced today that the 27th annual Critics Choice Awards will air LIVE on The CW Network on Sunday, January 9, 2022 from 7:00-10:00pm ET (delayed PT). The show will continue its combined Film and Television awards format, honoring the finest in both cinematic and televised/streaming achievement. Location and additional details for the January 2022 ceremony will be announced at a later date.
"We are thrilled to be partnering with The CW again and looking forward to gathering in person to celebrate the finest work of this upcoming season," said Critics Choice Association CEO Joey Berlin. "The 27th Annual Critics Choice Awards will mark a return to the glamorous, star-studded revelry that make these nights absolutely unforgettable."
CRITICS CHOICE AWARDS are bestowed annually to honor the finest in cinematic and television achievement. Historically, they are the most-accurate predictor of Academy Award nominations.
27TH ANNUAL CRITICS CHOICE AWARDS TIMELINE:
Monday, October 4, 2021 – Submissions open for CCA TV categories (submissions are not required for film categories)
Monday, November 15, 2021 – Submissions close for CCA TV categories (submissions are not required for film categories)
Wednesday, November 17, 2021 – NomComs begin deliberations
Monday, November 29, 2021 – NomComs render official recommendations
Monday, November 29, 2021 – Nominating ballots go out to Film Branch members
Wednesday, December 1, 2021 – Critics Choice Awards TV nominations announced
Friday, December 3, 2021 – Midnight (PT) deadline for final Film ballots
Monday, December 6, 2021 – 9 a.m. PT Film nominations announced
Thursday, January 6, 2022 – Final CCA ballots emailed to all members
Friday, January 7, 2022 – 9 p.m. (PT) Deadline for returning final ballots
Sunday, January 9, 2022 – 27th annual Critics Choice Awards presented live on The CW
The 27thannual Critics Choice Awards show will be produced by Bob Bain Productions and Berlin Entertainment. The CCA is represented by Dan Black of Greenberg Traurig. Follow the 27th annual Critics Choice Awards on Twitter and Instagram @CriticsChoice and on Facebook/CriticsChoiceAwards.
About the Critics Choice Association (CCA)
The CriticsChoice Association is the largest critics organization in the United States and Canada, representing more than 400 television, radio and online critics and entertainment reporters. It was established in 2019 with the formal merger of the Broadcast Film Critics Association and the Broadcast Television Journalists Association, recognizing the blurring of the distinctions between film, television, and streaming content. For more information, visit: www.CriticsChoice.com
About The CW
THE CW TELEVISION NETWORK launched in 2006 as America's fifth broadcast network, with programming targeting younger viewers, a demographic highly sought after by advertisers. The CW, a joint venture between Warner Bros. Entertainment and CBS Corporation, broadcasts a six-night, 12-hour primetime lineup, Sunday through Friday. The CW's primetime programming is also available to stream for free, without authentication, on the ad-supported cwtv.com and The CW app, now available on every major OTT platform. In daytime, The CW broadcasts a Monday through Friday afternoon block, and a three-hour Saturday morning kids block. The CW's digital network, CW Seed, launched in 2013, and offers original short-form digital content as well as past seasons of fan-favorite television series. For more information about the network and its programming, visit www.cwtvpr.com.
CONTACTS:
Andy Gelb/Elyse Weissman
SLATE PR
andy@slate-pr.com / elyse@slate-pr.com
Jodi Karp
The CW Network
818-977-2609
Jodi.Karp@cwtv.com